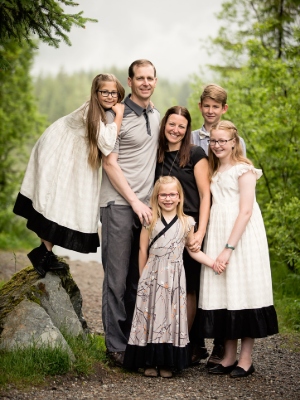 Brent J. Tingey, DMD, MS
Dr. Tingey was born in Seattle, Washington but grew up in Boise, Idaho. His father is a practicing orthodontist so naturally he had plenty of exposure to the field. Early in life he learned how to mow, trim, and take care of the landscape around an orthodontic practice. During his high school years he learned the art of study model trimming. He was eventually trained in wire bending and became adept at making various orthodontic appliances. Dr. Tingey was able to take these skills to college and work in an orthodontic lab part-time during his undergraduate years at Brigham Young University.
It was at BYU that Dr. Tingey met the love of his life to whom he's been married since 2000. Their first child was born in Cleveland, Ohio during his third year of dental school. After graduating with a Doctorate of Dental Medicine, Dr. Tingey moved his small family to Juneau where he was the first resident to complete a new Advanced Education in General Dentistry program. Upon completion of the program he was asked to stay as a staff dentist and part-time faculty for the residency. Two years were spent in this capacity, during which time he added a daughter to his family. Dr. Tingey was then accepted to Loma Linda University's graduate program in Orthodontics and Dentofacial Orthopedics.
Dr. Tingey's family increased their numbers yet again by having a California baby. He finished his residency in September of 2011 and genuinely loves the profession he's chosen. "I find tremendous satisfaction in the service that I'm trained to provide and look forward to a long and fulfilling career."
When he's not taking care of his patients Dr. Tingey can be found in the mountains or on the water, either with his wife and kids or with the scout troop to which he volunteers his time. He is an avid mountaineer and first fell in love with Alaska while climbing Denali in 2003.